Whether working in the elements or working up a sweat, only Brass Knuckle® Crusher (BKDST-1020NP) safety goggles have specialized channels along the brow line to move water and sweat away from the eyes, while the rubber gasket seals glasses snugly against the face. The gasket does double-duty as anti-dust protection, too. Only Crusher offers this unique type of liquid splash protection from a traditional dust goggle.

Crusher is the ultimate in see-clearly workwear. Not only do the contoured channels route moisture away to help vision remain clear, proprietary BK-Anti-FOG+ anti-fog technology offers superior performance under the highest heat and humidity for a long-lasting, fog-free view.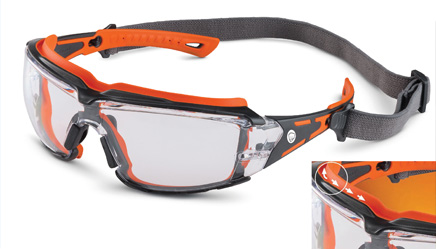 Crusher's design is popular for its modern look. The cool wraparound styling of the one-piece 10 base curve lens offers high-impact protection and an unobstructed field of vision—an almost unprecedented optic range. But make no mistake; this is more than a looker. Super-flex temples hug any size face and TempleTouch™ technology comfortably grips the sides of the head with molded-in nibs behind the ears. A secure fit is as simple as turning the PivotEase™ nosepiece to a narrow position and then sliding the eyewear on. It adjusts automatically and then "locks" into the perfect, no-slip positioning. Every pair comes with an optional strap to further secure the fit.

There's finally an alternative to putting up with water and sweat in the eyes. Crush it! Get more information here.