Brass Knuckle® SmartCut™ BKCR4420 glove offers A4 cut protection, still the most breathable in its class
CLEVELAND—Working with sharp materials, abrasive surfaces, light oils, chemicals, and other caustic conditions requires a glove that protects while it breathes and offers long-wearing comfort. Brass Knuckle® SmartCut™ BKCR4420 gloves offer A4 cut resistance with double-coated protection that combines slip resistance and permeation protection in a surprisingly dexterous glove.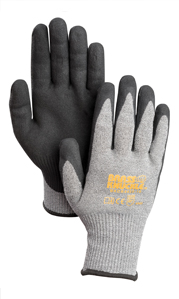 These gloves deliver high cut resistance without bulk. A foam nitrile top coat adds grip security for oils, petrochemicals, fuels, and most acids. The sandy grip finish increases abrasion resistance and cut protection, all while being the most breathable and flexible glove in its class.
Over a high-density polyethylene (HDPE) shell goes a greener-formula water-based polyurethane (WBPU) coating as a palm and finger base coat that helps reduce penetration of liquids, including light oil. In this method, the polyurethane is infused into the glove with water rather than with potentially harmful chemicals such as dimethylformamide. The result is a superior, long-wearing glove that feels softer and provides excellent breathability, fit, and manual dexterity. It also reduces workers' cumulative exposure to chemicals.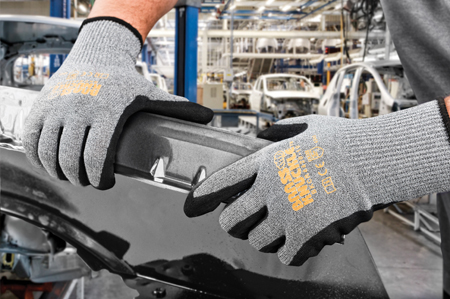 SmartCut™ BKCR4420 is excellent for metal work, automotive, and stamping or for work in the oil and gas industries. It stands up to construction, glass handling, general industry, and HVAC while being dexterous enough for assembly work, small parts handling, and shipping. A full knit wrist — seamless and stretchable — provides a snug fit and prevents dirt, debris and cold from getting inside the glove.