Groove-and-gasket combo keeps vision clear for safe, efficient work in wet conditions


CLEVELAND—When rain or sweat is pouring down, don't live with it—channel it! Introducing new Brass Knuckle® Crusher eye protection. Specialized channels along the brow line move water and sweat away from the eyes, while the rubber gasket seals the glasses snugly against the face. So when members of your team are working out in the elements or working up a sweat, there's no need to stop what they're doing and wipe off. Their eye protection stays on their faces, where it belongs. Plus, the soft rubber gasket is removable, allowing for quick conversion to standard protective
eyewear.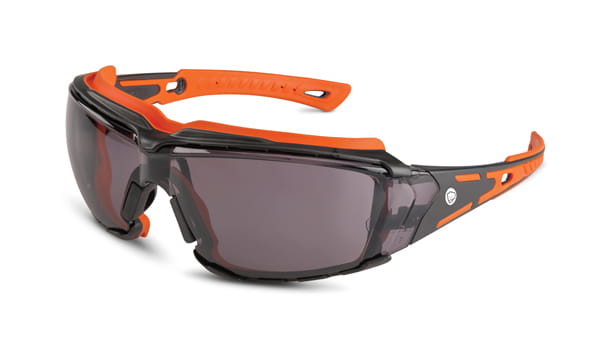 Only Crusher features this unique type of liquid splash protection from a traditional dust goggle. Coupled with our BK-Anti-FOG+ anti-fog technology, standard on every pair, Crusher is the ultimate in see-clearly workwear.

Crusher is loaded with the other features you expect from Brass Knuckle: super-flex temples that hug any size face and TempleTouch™ technology that grips the sides of the head comfortably with molded-in nibs for non-slip performance. Each pair comes with an optional strap that locks into the temple for an extra-secure fit.

Every Brass Knuckle product is the result of our unrivaled passion for compliance and safety. We don't put our name on it until it meets our high standards of quality, and our unparalleled understanding of hazards helps keep workplaces safe and compliant.

Crusher is a worthy addition to this tradition. Get your crew's Crush on—it might be the most adaptable, customizable protective eyewear ever.

About Brass Knuckle

Brass Knuckle® grew out of a partnership with one of North America's oldest dedicated safety product supply companies. From product inception to quality control, we manage every aspect of product development to ensure ergonomics, protection and cost efficiency, maximizing compliance and safety. Brass Knuckle is a member of the Volk Enterprises family of companies, whose international strategic alliances with documented professional supply partners allow for a full range of safety products, programs and services to clients across the globe. For more information, contact Brass Knuckle® Safety Products, 1335 Ridgeland Parkway, Suite 120, Alpharetta, GA 30004. Phone: 770-674-8930. www.brassknuckleprotection.com.